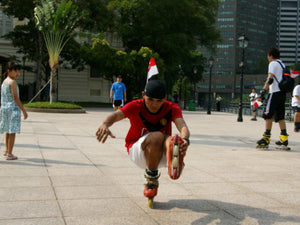 Learn basic freestyle slalom moves and how to piece them together into a routine. Great for students with higher skating abilities and seeking to advance in their skills and prowess.
$80 for 1-on-1 class, additional $40 for each subsequent participant. Maximum 6 pax allowed per session.
Each session is 1 hour.
Freestyle skates are self-provisional.
Training aids such as cones will be provided.
Time slots and instructor are subjected to availability
Choose your preferred venue for the lesson.
Please call (65) 9368-4435 or email to weskate2gtr@gmail.com for inquiries. Please go through our Terms and Conditions.
Please allow 2 working days to process your booking.